I have an announcement to make!
Starting August 1st, 2015, I am beginning the Yakezie Challenge.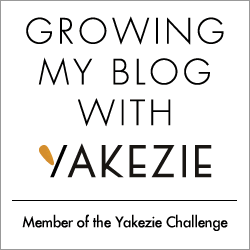 Before I changed hosts and lost all of my blog posts, and before life got seriously in the way of my blogging routine, I was a part of the Yakezie Challenge. Unfortunately, life took over and blogging fell by the wayside.
It took me about a month of thoughtful consideration before I decided to rejoin — after all, I hate failure, and rejoining would only emphasize my failure, right?
Well, I think failure is what you make of it. If you don't learn anything new from failed attempts, then yes, you have failed. But when things legitimately get in your way, or when you have to put certain goals on hold to meet other pressing goals, then I believe failure isn't really so bad.
In fact, my previous failure at completing the Yakezie challenge is only an inspiration to try harder this time. I know that, had I been in a better place when I started two years ago, I might be in a better place now, with a monetized blog and the ability to work more from home. These things were important to me as a graduate student in 2013, but they are even more important to me now as I will become a mother before the end of 2015.
The Challenge.
Currently, my Alexa ranking is 1,732,829. The goal of the Yakezie challenge is to break 200,000 in a six month period. In order to complete the challenge, I also need to post new content 2-4 times per week.
I am confident that I can complete the challenge this time around. I have already watched my Alexa ranking drop from a whopping 4,181,448 on July 12th, and I have started creating an editorial calendar for future posts. Currently, the calendar stretches two weeks into the future — my goal is to be a month ahead by September 1st.
Want to make an appearance on Real Simple Finances? Check out my guest post guidelines!
So What's Next?
August will be a month of action. Since the semester starts at the end of this month, I have a clear deadline for getting ahead on both my editorial calendar, as well as on writing and scheduling blog posts.
You can continue expecting posts roughly 3 times per week — I am for a Monday, Wednesday, Friday posting schedule for ease and predictability.
Another part of the Yakezie challenge is to help promote other bloggers. If you have a blog and you'd like to write a guest post, you are welcome to include a link to your own blog in your bio.
Finally, my last action step for August is to continue working on Pinterest marketing.
---
Have you heard of or attempted the Yakezie Challenge?